So many good box sets dropping right before the holidaze. Coincidence? Agree to disagree. When in Rome.
The Donuts 45 box set is the same as the Donuts LP, 'cept it's all spread out on 45 singles. Plus you get a bonus 7″ with two long out-of print tracks.
From Stone's Throw:
This box set includes a bonus 45 with "Signs" from the long out-of-print Donuts 'Fan Club 45' b/w DOOM & Ghostface's "Sniper Elite & Murder Goons" Рtwo tracks over Donuts beats which were recorded in late 2005 prior to the original release of the album.
Ships the 2nd week of January, a perfect way spend that Christmas skrilla!¬†Oh and the 45s actually look like donuts. Nice little piece of packaging here, see more photos below…
Price – $39.50
Additional photos from Freshness Mag: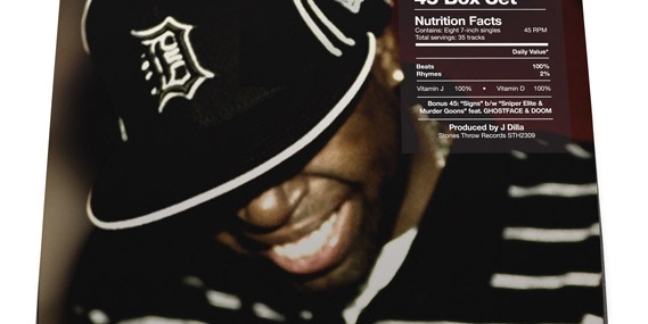 Thanks for rating this! Now tell the world how you feel via Twitter.
What Do You Think of This Release?